Hello everyone and welcome back to the blog! Have you seen a robin yet? Did you send a picture of it to a loved one? Over the past couple weeks, I saw a robin hopping on a front lawn and my mom shared that she had seen one too! Spring is on its way. And since we have been talking about sharing our love of birds with friends and family, I have something exciting to share with you today.
My friend Miss Blake is living in Wales, a country in the United Kingdom, more than 5000km away from Ontario. She is studying to become a teacher, with a special interest in how mindfulness strategies can be used to create a positive impact on student wellness and classroom learning. We share many interests including our love of birds and nature. She has taught me that spending time observing nature can be an important way to practice mindfulness and support our health and well-being. I know that feeling connected to the natural world around me makes me feel part of something big and important;
observing the ecosystems around me and seeing how my actions contribute to the well-being of birds and wildlife is a mindfulness practice that benefits everyone. I'm so glad that she offered to share her experiences with birds from Wales with us today!

Hiya to all my bird loving friends out there! This is Miss Blake reporting to the blog from Wales. I'm here to share a very special bird haven with you all today. My favourite place to walk, bike, and play outdoors in Wales is at Roath Park Lake in Cardiff! Loved by many of the citizens here in Cardiff, Roath Park Lake contains a 30-acre man-made lake. People often camp out on the side of the lake overnight! Many outdoor enthusiasts can be found casting their fishing lines hoping to catch a bite. The lake always looks so beautiful and serene. Most importantly, the lake acts as a crucial habitat for overwintering birds. Overwintering and breeding birds that you can see at Roath include the Mallard, Great Cormorant and Herons.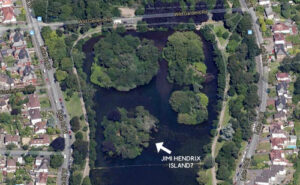 The lake has four islands within it that no-one from land can access. These islands are home to safe nesting sites for the birds. It is important that we respect the boundaries that are put in by the city.
Everyone here respects the birds and are more than happy to share the space with them. The birds are always so much fun to watch. They're all very lively and carry on amongst one another like brothers and sisters. Roath has about 100 Mute Swan and too many Geese for me to count. Because there are so many Geese who call Roath their home, many wild birds get scared off. Luckily, local conservationists know about this problem and try to control the population of geese. The top 5 birds that you can see at Roath include: The Mute Swan, the Great Crested Grebe, the BlackHeaded Gull, the Eurasian Coot, and the Mallard.
Today I want to share my favourite Roath bird with you – the Greylag Goose.
The Greylag Goose is the largest of the wild geese that are native to the U.K. and European region and are ancestors to most domestic farm geese. You can spot the Greylag goose by its colour. Like the name suggests these geese have grey feathers and a white bottom with orange feet and beak. Greylag geese travel north to mate and have babies. When they mate it is usually for life; both the adult geese stay to take care of the eggs and raise their goslings into big strong geese. They can get up to 76-89 cm tall with a wingspan around 147-180 cm. Their diet of grass, roots, cereal leaves, and spilled grain help them grow big and strong.

I try to make sure I get some wellness walks in weekly. There is nothing better than a long walk at the park to clear your mind after being stuck at home for what seems like forever. The geese always cheer me up. Watching them waddle around with their beaks raised looks like a baby running with their hands in their pocket. I can't help but laugh. Another thing I like to do for the geese on my wellness walks is to bring them a treat. However, it is important we don't feed them bread. There is a HUGE misunderstanding that bread is A-OK for ducks and geese. But it isn't, it can really upset their tummies. If you want to get into feeding the ducks and the geese, pick up some bird seed, rice, sweetcorn, oats, defrosted frozen peas or some ripped up lettuce. I guarantee you ALL the birds will want to be your best friend.
Thank you to Miss Blake for sharing with us this week! I hope everyone reading along enjoyed learning all about the birds at Roath Park Lake. If you have a story about the birds in your backyard, why not write about it and share with us. We have so much to learn from each other. In the next blog, we will be thinking more about the ecosystems and habitats we can help create for birds in our own backyards by growing plants that attract and shelter native bird species. See you then!